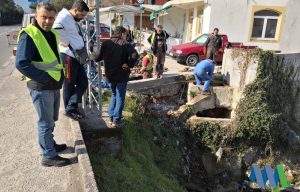 Company Water Loss ltd. has been assigned on project of reducing NRW in the water supply utility Herceg Novi Montenegro.
Main objective of the project is reduction of lost water in DMA zones Bijela i Mojdež (sub-zone Ratiševina).
In November and December last year, extensive preparations were made with the aim of creating conditions for efficient measurement, calculation of water balance and leak detection.
In February and March this year, after water supply utility Herceg Novi completed all previous works of the started activities (?) and after extensive measurements and loss detections, the water losses in sub-zone Ratiševa were brought to the level of economic profitability, meaning that the further research would be unprofitable.
In DMA zone Bijela, water losses got reduced by 12 l/s and all other leaks were pre-located and are soon to be precisely located and fixed, after which the pressure in the zone will be regulated with constant monitoring via SCADA system that is currently being installed.